Full servo sanitary napkin counting-stacking-packaging machine
Why choose GACHN
1.Technology-oriented: GACHN has a technical and R&D team of more than 40 personal
2.Gachn Technology has been used to package more than 60 sanitary napkin brands both in China and internationally.
3.Gachn's sanitary napkin packaging machine have helped the biggest sanitary napkin producer in China capture more than 40% of market share in China.
4.More than 20 years of designing and manufacturing experience in hygienic business.
GACHN

CHINA

90 WORKING DAYS

400 SETS/YERA
Description
This packaging machine series packages the stacked sanitary napkins and panty liners into bags, then seals the bags. It will also produce the bags before packaging, with the packing material a printed film. Two rolls of printed film with one on and one off operational functions will not stop packaging when changing between either roll, ensuring this packaging machine has a high working efficiency. It will quickly switch between different product specifications, and is easy to operate.
Schematic diagram of the package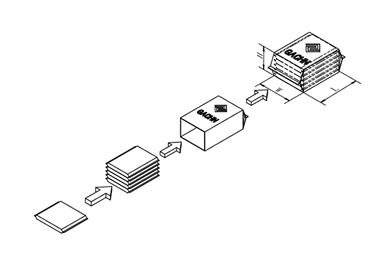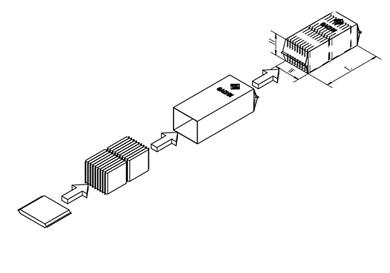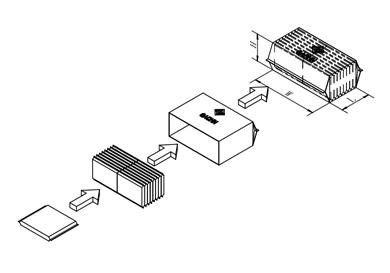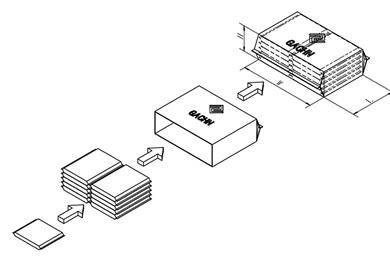 Technical parameter

Model: GM-088W
Working speed: up to 60 bags/min (in relation to the application)
Yield rate: ≥98%
Packing bag type: tube roll
Tube roll material: PE film, composite film (single layer thickness:40~70um)
Packing type: laying,upright
Stacking height: ≤90mm
Machine overall size: L6.3m×W1.5m×H2.0m(in relation to the application)
Weight:: about 2500kg
Installation capacity: about 17KW
Power supply: 3Ph4W(A、B、C、PE), 380V/50Hz
Air supply: 0.6-0.8MPa
Air consumption: ≤300LPM
Special features
1. Gusset shaping unit ensures product stability and accuracy; gusset overlap deviation is less than 3mm.
2. Bag opening unit operates with bag package of different specifications, and the changing of specifications can be done by adjusting the parameters.
3. The roll unwinding unit runs continuously, while one roll is being used, a spare roll is inserted into the machine, enabling it to switch between rolls in a short time, thus the increasing working efficiency.
4. The height of the machine is adjusted through a device placed under it, enabling it to maintain its horizontal placement on uneven surfaces.
Get the latest price? We'll respond as soon as possible(within 12 hours)