Mini baby wet wipe machine
Why choose GACHN
1.Gachn is a reliable wet wipe packaging machine manufacturer and supplier, leader in designing and manufacturing automated bag packaging equipment.
2.Gachn's wet wipes packaging machine have helped the biggest wipe producer in China capture more than 40% of market share in China.
3.More than 20 years of designing and manufacturing experience in wet wipe machine business.
4.Technology-oriented: GACHN has a technical and R&D team of more than 40 personal
5.we can cooperate with the client to develop new machine design to meet the new products need, such as provide the resource and test stand etc.
GACHN

CHINA

90 WORKING DAYS

400 SETS/YERA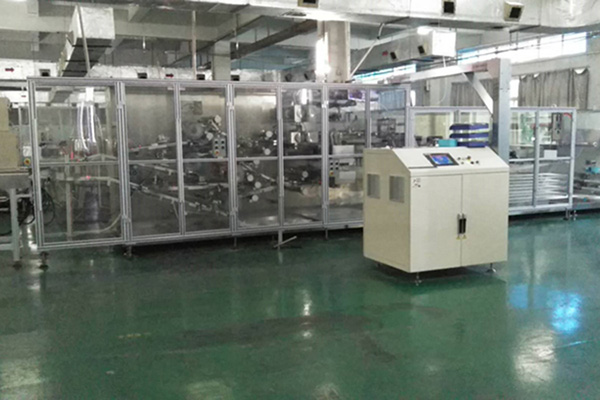 This wet wipe production line will automatically complete a series of processes for mini wipes with multiple wipes in one bag. The automatic wet wipe production line with a stacking station carries out cutting, single-piece folding, stacking, bag producing, bag-in, liquid filling, and bag sealing of nonwoven fabric.
Technical data:
1.mini wipe making machine stable speed:1000pcs/min
2.mini bagger top speed: 60bags/min; mini bagger stable speed:55bags/min(two mini bagger .stable speed:110bags /min)
3.group bagger speed:15bags/min
4.full servo control system:Mitsubishi system
5.Pnumetic parts:SMC or CKD
6.full servo controlled, non-stop raw material roll changing design makes that 24 hours non-stop running of mini wipe making machine possible.
7.folding type:single Ztype,double Z type,W type。
8.Main power supply:AC380V±10% 50HZ
No breakage or weak sealing, all bags are well shaped and neatly stacked.

Single piece folded, folding deviation ≤3mm.

Fluent transverse cutting, high cut edge smoothness, cut length tolerance: ± 3mm.

It can implement the production process with accurate stack counting according to the assigned number. Misplaced tolerance ≤3mm.

The full servo driving ensured a highly accurate package and stability.

Wet wipe packaging machine can automatically add material without stop or slowing down.

Automatically chip and stacking according to the specifications set by the user, automatically eliminating waste.

Adapting full closed loop lotion accurate humidification, avoid liquid circulation pollution, ensuring the safety and reliability of product quality.

Stable product quality, reducing liquid waste, cost saving.

Second-time waste ≤2%, high working efficiency, saving Non-weave fabrics material.
Get the latest price? We'll respond as soon as possible(within 12 hours)