Why is a Sanitary pad packing machine important for a sanitary pad production line
13-01-2023
Why is a Sanitary pad packing machine important for a sanitary pad production line?
A sanitary pad packing machine is an integral part of a sanitary pad production line. It used to package the pads in a sterile environment so that they are safe for use.
The machine sterilizes the pads and then packs them in a clean, dry environment. This ensures that the pads are free of bacteria and other contaminants.
In addition, the machine can also be used to package other items such as tampons and cups.
The machine is an essential part of any production line that produces these products.
The packing machine is the final process in the sanitary pad production line. It takes the pad from the assembler, wraps it, and packs it ready for sale. There are several steps in this process.
The first step is to open the liner and peel off the release paper.
Folding the pad's wings is the next stage. Inserting the pad inside the wrapper is the third step. The wrapper must sealed as the fourth step. The sixth stage is to stop talking about any excess wrapper.
The sixth step is to print a batch number on the wrapper.
The seventh step is to pack the pads into boxes. And finally, the eighth step is to close and seal the boxes. This packing machine is essential because it ensures that the pads are correctly wrapped and sealed so that they are hygienic and safe to use.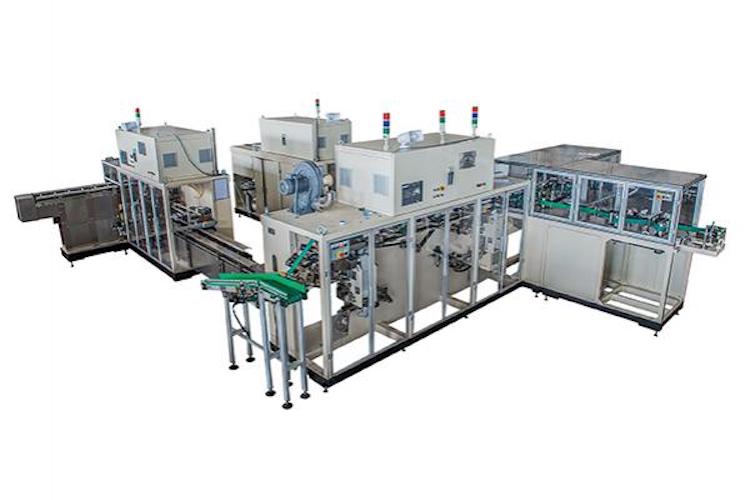 It also means that sanitary napkins can be efficiently packaged for easy transport and storage. A sanitary napkin packaging machine is an essential part of any sanitary napkin production line.
They help ensure that sanitary napkins are packaged efficiently and safely, preventing damage and ensuring that sanitary napkins reach customers in perfect condition.
The packaging machine also helps to optimize the flow of the production line, ensuring timely and efficient packaging of pads. Additionally, packaging machines can help reduce labor costs by automating the packaging process. Therefore, the sanitary napkin packaging machine plays a vital role in any sanitary napkin production line.